---
SUBMIT PHOTOS AND VIDEOS (OPTIONAL) TO COMPLETE YOUR REGISTRATION
Stock, modified, survivors, race cars, project cars …. all are welcome along with a Omiyage Package purchase.
Any details below are subject to change at anytime without notice
---
CARS WILL BE LOOKED FOR "KYUSHA WORKMANSHIP AND PRESENTATION AWARD" 
Exterior condition,
Intrior conditions,
Engines,
Overall quality of modification and creativeness
those above are examples to be looked
(1) PHOTO REQUIREMENTS: MAXIMUM IMAGE SIZE IS 2MB /EACH PHOTO
Front Quarter
Rear Quarter
Engine Room
Interior
Plus…. We may need more content from you, so keep an eye out for further emails from our team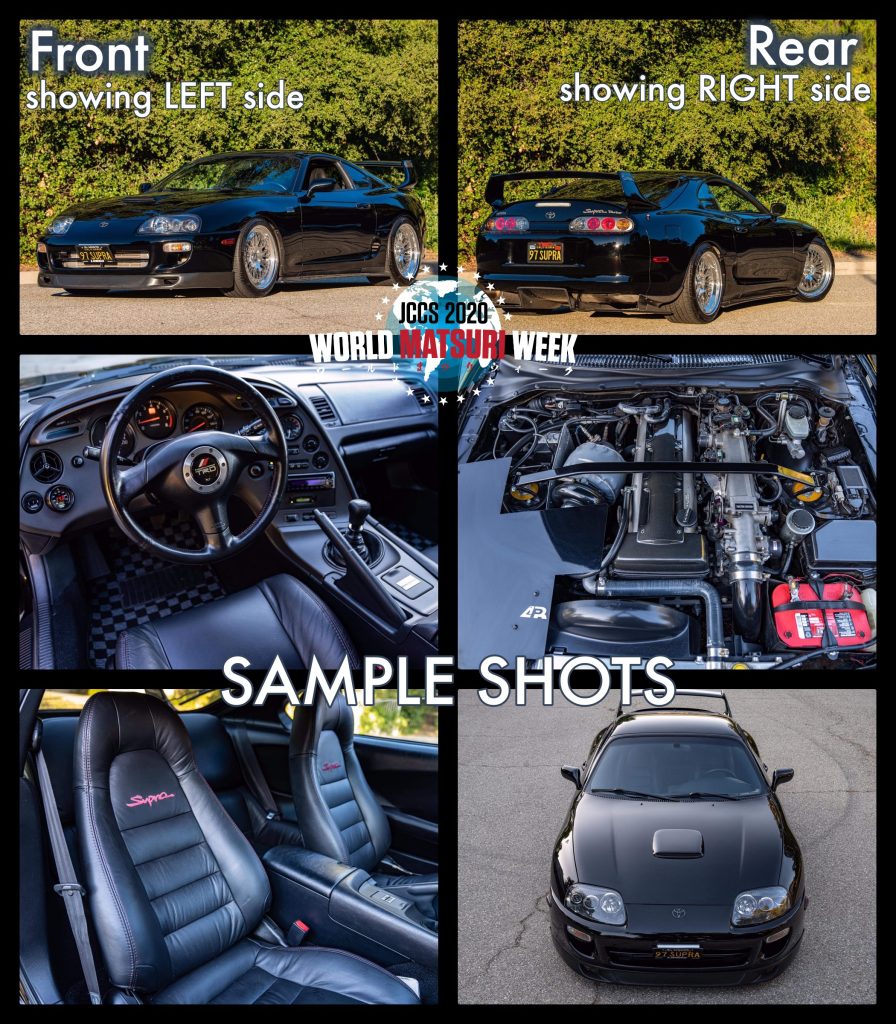 ---
All photos to be shot in landscape mode (horizontal, not vertical or portrait mode)
Photos must be taken outside either under direct sunlight, or completely inside (closed garage door) with ample lighting.
Please try NOT to include those items as much as you can, for example: trash bins, house address, people who you don't know or have permission to be in the film.
Not to include any "FOR SALE" signs of any kind, to avoid having your registration status immdediately in pending.
No materials of any kind to advertise businesses, unless that are parts already installed in the vehicle.
---
(2) VIDEO SUBMISSION (*OPTIONAL) 
CLICK to SEE THE GUIDE on YouTube 
All videos should include but are not limited to:
Vlog style overview: Start with you introducing yourself and your car. "I'm Paul Walker, this is my 1993 Toyota Supra Mk4…" It is optional to add specs and features, as well as some ownership history. (Full 360 vehicle walk around) *
Anything else that may be exciting to you about your car (no dialogue)
Film your video content outside in either under direct sunlight, or completely inside (closed garage door) with ample lighting.
Walk and move slowly while filming, try to have a steady hand.
Please refrain from any sound making devices (stereo, fans, other vehicles etc).
Each clip should be >> no longer than 1 minute << If you would like to submit a longer video, please send us a SHAREABLE LINK of yours, such as Google Drive.
Cell phone videos are just fine.
---
THIS IS A SAMPLE GUIDE, YOU ARE MORE THAN WELCOME TO BE CREATIVE!