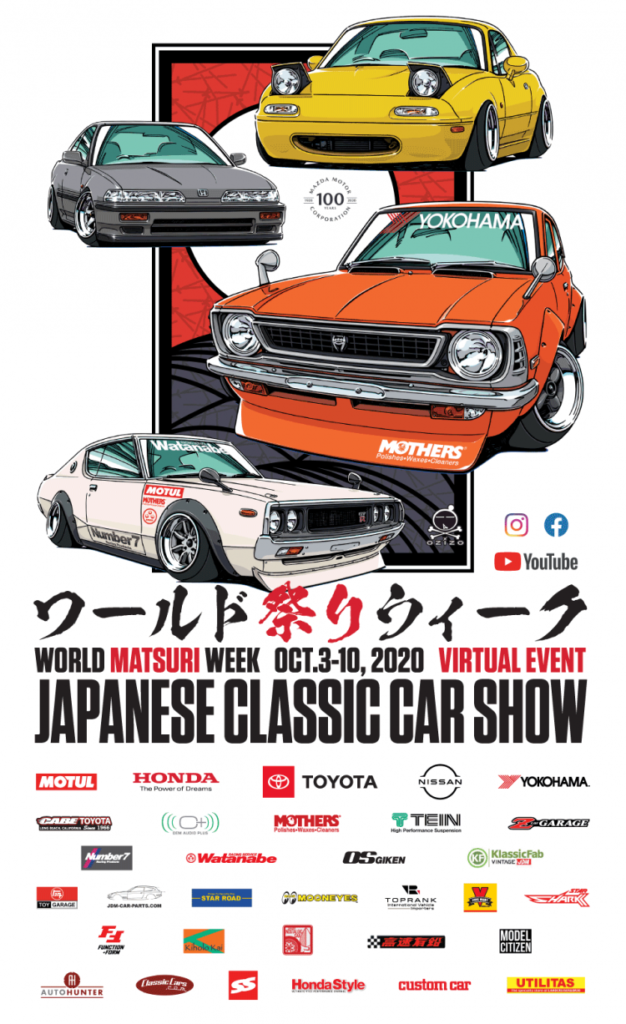 Saturday, Oct. 24, 2020 has been postponed to 2021 read more
North America's premier gathering of classic automobiles from Japan, the Japanese Classic Car Show (JCCS), is scheduled for October 24, 2020. The 16th annual JCCS celebrates the rich heritage of Toyota, Nissan, Mazda, Honda, Subaru, Mitsubishi, Isuzu and more at an event like no other, and will take place at Marina Green Park in Long Beach, California. Last year, the JCCS welcomed over 10,000 attendees and over 500 cars and motorcycles.
JCCS welcomes cars, trucks, and motorcycles that range from rare 1960s classics to up-and-coming collectible "Neo Classics" from the 1990s. All Japanese makes and models built 1995 or earlier are eligible. That includes continuation models (i.e., all fourth-generation Toyota Supras, built 1993-98 are included because the generation began before 1995).
This year, JCCS will also be honoring Mazda's 100th Anniversary. Mazda was founded in 1920 as Toyo Kogyo Cork Co. in Hiroshima, Japan and 2020 marks one century in business. It is a major milestone for the maker of beloved cars such as the RX-7, Miata, and Cosmo Sport.
We will also be recognizing 50 years of the Toyota Celica, which debuted in 1970. The original Celica pioneered the concept of the personal sports coupe in Japan, and would later spawn the legendary Supra.
In addition, we are commemorating the 35th anniversary of the Acura Integra, which began production in 1985. The hugely popular sport compact came to define the import tuning era, popularizing the Japanese car hobby to countless enthusiasts.
2020 also marks the 10th annual Japanese Classic Motorcycle Show, a gathering of vintage bikes from Honda, Yamaha, Suzuki, Kawasaki, and more. The JCMS is a part of JCCS, and admission gets spectators into both events.
This year, we will also have special guest sponsors Racing Service Watanabe, a product of Number 7 Racing, from Japan. The makers of the iconic RS-Watanabe 8-spoke will display their Kenmeri Nissan Skyline as part of the festivities. We will also welcome back famed tuning house Star Road and wheel company Star Shark for their third year as sponsors.
2020 has been a challenging year, but the JCCS family is doing our best to put on an unforgettable show for fans of Japanese cars. Registration will begin Saturday, August 1, 2020.
Hope to see you there!